Given a binary tree, a target node in the binary tree, and an integer value k, find all the nodes that are at distance k from the given target node. No parent pointers are available.
Input:
First line of input contains the number of test cases T. For each test case, there will be three lines of input first of which is a string representing the tree as described below:
The values in the string are in the order of level order traversal of the tree where, numbers denotes node values, and a character "N" denotes NULL child.

For example:



For the above tree, the string will be: 1 2 3 N N 4 6 N 5 N N 7 N
Second line of test case holds the integer value target.
Third line hold the value k.
Output:
All the space separated nodes that are at distance k from the given target node in sorted order.
Your task:
Your task is to complete the function KDistanceNodes(). This function returns the sorted list of nodes at k distance from target. Returned list will be printed by driver code.
Constraints:
1 <= T <= 200
1 <= no of edges <= 1000
1<= data of node <= 10000
1 <= target <= 10000
1 <= k <= 20
Expected time complexity: O(N)
Expected auxiliary space: O(h) , where h = height of tree
Example:
Input:
2
20 8 22 4 12 N N N N 10 14
8
2
20 7 24 4 3 N N N N 1
7
2
Output:
10 14 22
1 24
Explanation:
Testcase 1: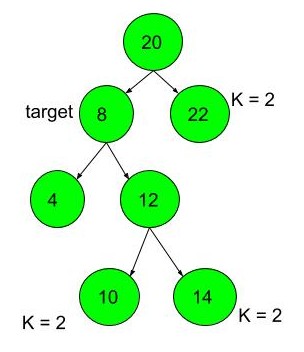 we can observe that target node is 8, and nodes which are at k distant from this target node are 10, 14 and 22.
** For More Input/Output Examples Use 'Expected Output' option **