Kshitij and Abhishek are best friends. Kshitij changed Abhishek's all accounts password and gave him a string s created by a cipher algorithm. Being good at bit algorithm, he XORed the hexadecimal string, N number of times, where N is the string length and every XOR operation is done after shifting the consecutive string to the right.
For example : String="abcd".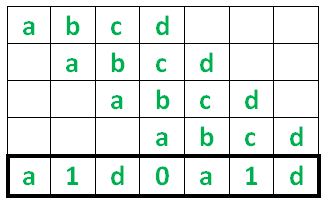 Abhishek finds it difficult in understanding how it is done. But you are now clever enough to find out the original password, so help him.
Input:
The first line contains an integer T, the number of test cases. For each test case, there is a hexadecimal string s.
Output:
For each test case, the output is a string containing the original password.
Constraints:
1<=T<=100
1<=N<=1001 & N%2=1
Note: Alphabets are in uppercase.
Example:
Input
2
A1D0A1D
653CAE8DA8EDB426052
Output
ABCD
636F646572

** For More Input/Output Examples Use 'Expected Output' option **